The term "CD" has become synonymous with banking, but the CD is a long-term investment that provides stability and security. When comparing rates from multiple institutions, Golden 1 Credit Union offers some of the best interest rate for CDs to investors looking for lasting returns on their investments. Moreover, G1CU also provides members with low fees and great service so they can enjoy powerful financial benefits in all of life's moments.
The "safe credit union cd rates" is a website that provides information on the top credit unions in the United States. It has been updated with new CD rates and terms.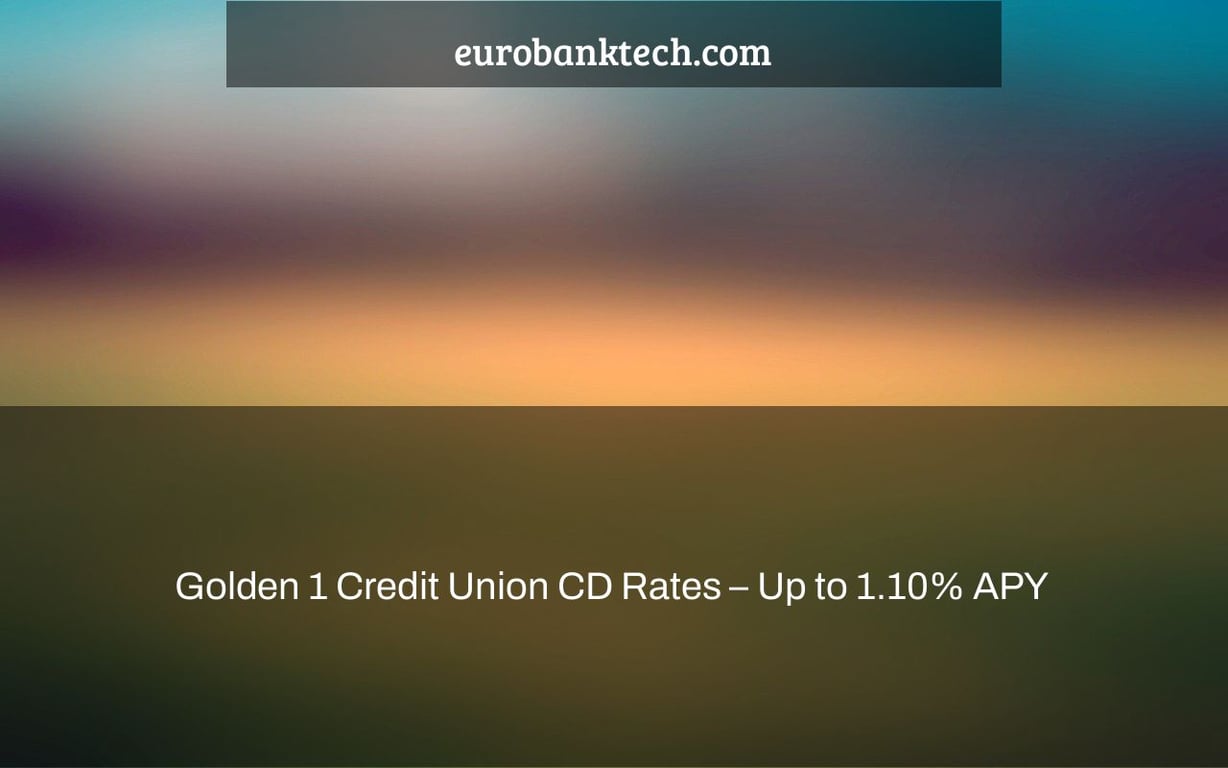 Golden 1 Credit Union was founded in 1933 in Sacramento, California, as a financial organization for California state workers under the name California State Employees' Credit Union #1. It is currently known as Golden 1. 
With over 70 locations and home loan centers across California, this financial institution manages over $18 billion in customer assets. Golden 1 Credit Union will have around 1.1 million members by 2022.
Golden 1 is a credit union with only members. You must be a California resident in order to join. Find out how to join this credit union, what products are offered, how competitive the certificates of deposit are, and whether this credit union is a suitable match for you here.
This article will teach you:
golden1.com picture credit
Golden 1 Credit Union offers just one form of certificate of deposit: a basic CD account. Term savings certificates, sometimes known as CDs, are available in terms ranging from three to sixty months. 
Golden 1 has a tiered rate structure that rewards greater balances with higher interest rates. In the table below, you can see the current interest rates.
Rates on Standard Term Savings Certificates
| | | | | | |
| --- | --- | --- | --- | --- | --- |
| Term | $500 – $9,999.99 | $10,000 – $24,999.99 | $25,000 – $49,999.99 | $50,000 – $99,999.99 | $100,000+ |
| 3 – 5 months | 0.15% APY | 0.15% APY | 0.20% APY | 0.20% APY | 0.25% APY |
| 6 – 11 months | 0.30% APY | 0.30% APY | 0.35% APY | 0.35% APY | 0.40% APY |
| 12 – 17 months | 0.50% APY | 0.50% APY | 0.50% APY | 0.55% APY | 0.60% APY |
| 18 – 23 months | 0.50% APY | 0.50% APY | 0.50% APY | 0.55% APY | 0.60% APY |
| 24 – 35 months | 0.65% APY | 0.65% APY | 0.65% APY | 0.70% APY | 0.75% APY |
| 36 – 47 months | 0.70% APY | 0.70% APY | 0.75% APY | 0.80% APY | 0.85% APY |
| 48 – 59 months | 0.80% APY | 0.80% APY | 0.80% APY | 0.85% APY | 0.90% APY |
| 60 months | 1.00% APY | 1.00% APY | 1.00% APY | 1.04% APY | 1.10% APY |
Are you curious how these CD rates compare to others? According to current FDIC statistics, the national average interest rate on a 6-month certificate is 0.10 percent, 0.17 percent on a 12-month CD, 0.22 percent on a 24-month CD, and 0.32 percent on a 60-month CD. It's worth noting that these rates are rising.
When compared to the greatest items available, these prices are reasonable, but they aren't the highest we've seen. Many digital banks, such as Synchrony and Marcus by Goldman Sachs, are significantly outperforming these rates. Synchrony, for example, is now offering a 2.25 percent interest rate on a five-year CD.
CD financing
Any of the following ways may be used to fund this account:
Depositing checks via mobile or paper
Deposit of cash
ACH transaction (initiated by Golden 1 or an external bank)
International wire transfer
You are not authorized to make further deposits into this account after it has been opened and funded, as is the case with most CDs.
The required minimum deposit to start this account is $500, which is very standard for comparable products. There is no low balance charge when the account is opened. This account does not need a minimum balance to earn interest or a monthly maintenance charge.
Interest Compounding
Interest is compounded weekly and credited. If you wish to receive regular payments as a source of income, you may choose to have the dividends sent out monthly, as many clients do. There is no additional fee for selecting this option, and you may pick between bank transfer, cash, or check as your payment method. Otherwise, dividends will be deposited to your account automatically each month.
Another interesting feature of this account is that the cash may be used as security for a Certificate Loan. Golden 1 Credit Union's certificate loan is a secured loan with lower interest rates and more flexible payback options than the credit union's unsecured loan offerings. These loans are a fantastic option for consumers who wish to improve their credit since they are simpler to qualify for and have lower interest rates than comparable options. 
If you opt to utilize your CD amount as collateral, the principle will continue to accrue interest until the loan is paid off or the account expires.
Many banks and credit unions only offer six-month CDs as the lowest term, so it's refreshing to see Golden 1's conventional CDs start at three months. This credit union does not provide step-up or bump-up CDs, variable-rate CDs, no-penalty CDs, or brokered CDs.
Early Withdrawal Fees and Grace Period
When a CD reaches its expiration date, it is automatically renewed. If you do not want to renew your certificate, you have a seven-day grace period after it reaches maturity to withdraw part or all of your money or end your account without incurring early withdrawal penalties. 
If you take money out of this account before it matures (not counting monthly interest payments), you'll be charged a fee. The following are the early withdrawal penalties if you make a withdrawal before your account matures:
An early withdrawal from a period of 3 to 11 months will result in a penalty of 90 days' interest.
Early termination of a period of 12 to 23 months will result in a penalty of 180 days' interest.
A penalty equivalent to 365 days' interest will be charged if you withdraw from a period of 24 months or more early.
These early withdrawal costs are very typical of ordinary certificate accounts. You may provide written notification before to maturity or during the grace period if you don't want your account to renew automatically.
The NCUA insures all Golden 1 certificates of deposit up to a maximum of $250,000 per account, per depositor. These accounts are as safe as any other CD.
Golden 1 Credit Union is open to everyone who lives in the state of California. If you live in California, you are not required to join any particular communities. 
You may apply in person at a branch, online using this website, or over the phone at 1-877-465-3361. It simply takes a few minutes to complete this application.
If you are an active-duty military member who normally resides in California but is now stationed out of state, you may be eligible for membership. If you do not reside in California but have a family member or domestic partner who does, you are welcome to join Golden 1. 
The last method to join is to work for one of the 1,000 Select Employee Groups located around the nation. Nonprofits, universities, and other institutions are among them. Indicate that you do not reside or work in California on your application, and choose "I belong to a Select Employee Group" to locate your workplace.
If your application is accepted, all you have to do now is create a Golden 1 savings account and make a minimum deposit of $1. This is a Regular Savings account with a 0.05 percent interest rate. There are no monthly maintenance costs with this account, which makes you a member-owner for as long as it is open and operational, and in-network ATM transactions are unrestricted (as long as you remain under your monthly withdrawal/transfer maximum of six per federal rules for savings accounts).
When you join, you may create a variety of different savings and checking accounts, but just the one indicated above is necessary for membership.
So, how does it feel to be a member of this credit union? The majority of client reviews for this credit union are excellent, with many people reporting easy account opening and pleasant customer service contacts. High interest rates attract new clients and keep existing ones pleased. 
However, there are drawbacks. Many concerns center on credit cards, but some deposit account holders claim that this credit union is difficult to deal with when issues emerge, such as fraudulent transactions or changing account ownership.
Overall, it seems that in-person service is preferable than online service for the majority of people, which is a plus for this organization. Customers who visit a branch may get different customer care than those who phone or email, according to reviews.
While you may create and maintain a term savings certificate entirely online, Golden 1 Credit Union also has branch locations. There are 50 full-service branch locations in 45 California cities, as well as five non-teller sites where you may do simple deposits and withdrawals. Members may use any of the 210 Golden 1 ATMs without paying a fee. Here is a list of all branch and ATM locations.
User experiences on Apple and Android are very different, according to app evaluations. The software has a Google Play rating of 3.2 stars and a 4.7 star rating in the App Store, suggesting that it may not be as well optimized for Android devices as it is for Apple. Keep this in mind, but keep in mind that the software is being upgraded for Android smartphones. The most recent update, at least for Apple users, provided significant improvements.
The software is functional, but it has a tendency to "break" and isn't always as responsive as it might be. The user interface is straightforward, which may be a plus or a disadvantage depending on your preferences. Fans of Chase and Bank of America's extensive financial applications could be disappointed. 
There are many options for contacting a customer service person. The first option is to phone the 1-877-465-3361 member care contact line. This non-account-specific phone line is open Monday through Friday from 7:30 a.m. to 6:00 p.m. Pacific Time, and Saturday and Sunday from 9:00 a.m. to 5:00 p.m. Pacific Time. 
Alternatively, you may send an email to [email protected] with your query or request, and you should get a response within one business day. You may also find answers to common queries in the site's FAQ area.
Golden 1 also provides mobile and internet banking customers with round-the-clock technical help. The phone number is 1-844-670-9542.
Golden 1 Credit Union may be the appropriate fit for you if you meet the eligibility requirements. While there are greater CD rates available from other institutions, the rates offered by Golden 1 Credit Union are certainly not awful, and membership is simple. These certificates include minimal initial deposit requirements and fair early withdrawal penalties, as well as a large number of handy branch locations across California.
This is an excellent alternative if you're searching for a normal CD with less stringent terms and restrictions, since it allows you to utilize the cash in your CD as collateral for a certificate backed loan or get monthly interest payments. You should definitely keep exploring if you're only seeking for the lowest rates and don't want to join a credit union (or aren't qualified).
The "golden 1 money market account" is a high-yield savings account that offers up to 1.10% APY and allows for automatic deposits.
Related Tags
golden 1 special cd rates
golden 1 money market rates
golden 1 savings account interest rate
golden 1 home equity line of credit rates
golden 1 account types